---
Videos
E-commerce administration
---
Ecommerce «Ecommerce is every aspect of corporate transaction or data transfer, which is made over the internet» Since 2011 product or service transactions made by Greeks via online stores have icreased dramatically (about 30%), reaching an overall value of 1.7 billion euro. About 1.5 million greeks bought online in 2011, 15 times per year. They spent aproximately 1.150 euro per year shopping online and the 2/3 of theese are spent to greek online shops.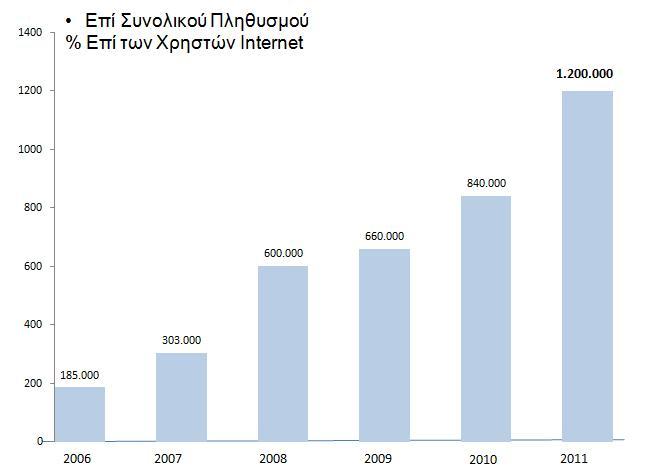 Internet is the only market place which seems to develop despite the economic downturn. The total turnover of that sales chanel is according to the service and product category. Medium-term forecast shows that the ammount of money spent by greeks is going to be increased to 8 billion euro per year, over the next 3 years.
Internet Business
Hellas
Internet Business
Hellas
Internet Business Hellas, is a pioneering software house that provides services concerning software engineering and telecommunications. We emphasize on customized software applications, web applications, database administration, multilingual content delivery systems, CRM software development and administration, multimedia applications and flash animation, high quality hosting and above all consulting services.

IBCMS
IBCMS is a unified and fully customizable product that covers all aspects of content relationships και επεκτάσιμο προϊόν που καλύπτει πλήρως τις ανάγκες οποιασδήποτε διαδικτυακής εφαρμογής, εταιρικού ιστοτόπου (Web site), διαδικτυακής πύλης (Portal) ή ηλεκτρονικού καταστήματος.

IBCRM
ο CRM (Customer Relationship Management) είναι μια επιχειρηματική στρατηγική, που στοχεύει στην μεγιστοποίηση των εσόδων και των κερδών, και στην αύξηση της ικανοποίησης των πελατών. Η μεγάλη υπόσχεση του CRM είναι η ικανότητά του να ανταποκρίνεται στις εξατομικευμένες ανάγκες και επιθυμίες των πελατών με ένα συστηματικό και αυτοματοποιημένο τρόπο. «CRM=customer understanding + relationship management.»

IBCOLLECTION
To σύστημα Διαχείρισης Ληξιπρόθεσμων Οφειλών έχει αναπτυχθεί από την εταιρεία μας στο σύνολό του. Είναι πλήρως παραμετροποιήσιμο με δυνατότητα προσαρμογής στις ανάγκες του πελάτη. Αναπτύχθηκε με τέτοιο τρόπο ώστε να μπορεί να δεχθεί προσαρμοσμένα αρθρώματα (plugins) εφόσον αυτό είναι απαραίτητο σύμφωνα με τη φύση και τις απαιτήσεις των εκάστοτε οφειλών.
---

IBCALLCENTER
Το «IBCALLCENTER», έχει αναπτυχθεί από την εταιρεία μας στο σύνολό του. Είναι πλήρως παραμετροποιήσιμο με δυνατότητα προσαρμογής στις ανάγκες του πελάτη. Αναπτύχθηκε με τέτοιο τρόπο ώστε να μπορεί να δεχθεί προσαρμοσμένα αρθρώματα (plugins) εφόσον αυτό είναι απαραίτητο σύμφωνα με τη φύση και τις απαιτήσεις των εκάστοτε προϊόντων.

IBNEWSLETTER
H ibNewsletter είναι μια cloud πλατφόρμα και αποτελεί τον ευκολότερο τρόπο για να δημιουργήσετε, να στείλετε, να μοιραστείτε και να παρακολουθήσετε την εξέλιξη των πωλήσεων- προϊόντων και των νέων σας μέσω διαδικτύου. Μέσα απο την πλατφόρμα μπορείτε να διαμορφώνετε το ενημερωτικό υλικό και να το στείλετε σε πολλαπλούς παραλήπτες σε όλες τις συσκευές.

Υπηρεσίες Διαδικτύου
Η εταιρεία παρέχει υπηρεσίες σχεδιασμού και υλοποίησης ολοκληρωμένης λύσης για την ανάπτυξη εταιρικών ιστοχώρων, ιστοπυλών και ιστοσελίδων. Ο σχεδιασμός γίνεται από το εξειδικευμένο προσωπικό της εταιρείας μας το οποίο περιλαμβάνει από web designers , flash designers, animation designers.
---

Analytics
Η πλατφόρμα μας δεν θα ήταν πλήρης χωρίς ενσωματωμένο analytics στο κάθε μας κατάστημα. Με το ibShop, μπορείτε να δείτε όλα τα κανάλια επικοινωνίας σας και τις ατομικές τους επιδόσεις. Μάθετε ποιες μάρκετινγκ δραστηριότητες οδηγούν σε έσοδα από το κατάστημα σας. Μπορείτε να ενσωματώσετε στο κατάστημα σας δυναμικά και κατά τα δοκούν οποιονδήποτε tracking code της google αλλά και των υπολοίπων παρόχων.

Mobile Εφαρμογές
Στην Internet Business Hellas χτίζουμε εφαρμογές για κινητές συσκευές που αποτελούν το πιο διαδραστικό μέσο για την προώθηση του στόχου του πελάτη. Ήδη το mobile module του ib-CMS λειτουργεί live σε πελάτες κάνοντας αυτόματη αναγνώριση της κινητής συσκευής και προσαρμόζοντας το περιεχόμενο του ιστοχώρου για την σωστή προβολή του σε αυτήν.
Χαρακτηριστικά της Βασικής άδειας χρήσης του IbShop (600€ ετησίως)
Διαχείριση Προϊόντων

Καλάθι Αγορών / Παραγγελιοληψία

Προϊόντα

Διαθεσιμότητα Προϊόντων / Ιδεατή αποθήκη

Περιοχή μελών (Member List)

SEO (Search Engine Optimization)

Banners

Newsletter

Κόστος Μεταφορικών

Διασύνδεση με Social Media
Extra χαρακτηριστικά με το εφάπαξ ή ετήσιο κόστος
Χρωματολόγιο – Μεγεθολόγιο

65€/έτος

Bundle Προϊόντων- cross selling & upselling

65€/έτος

Προσωποποίηση Χρήστη

50€/έτος

E-Invoicing

70€/έτος

Ηλεκτρονικά Κουπόνια–E Coupons

90€/έτος

Mobile Coupons

90€/έτος

Αποστολή Ενημερωτικών SMS

30€/έτος

Σύστημα επιβράβευσης Αγορών

150€/έτος

Module Β2Β

*

WishList

35€/έτος

Εικαστικό κατά παραγγελία (Custom Template)

**

Αυτόματη εισαγωγή προϊόντων στο www.skroutz.gr

30€/έτος

Extra Χαρακτηριστικά προϊόντων

80€/έτος

Σύνθετη αναζήτηση με βάση τα extra χαρακτηριστικά

120€/έτος

Δόσεις

50€/έτος

Δώρα- Επιλογή δώρων

120€/έτος

Κατασκευαστής- Εταιρείες

50€/έτος